Poonam Arora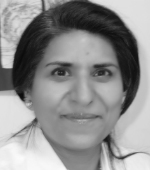 Manhattan College
poonam.arora@manhattan.edu
Personal Webpage
Download Curriculum Vitae
Dr. Poonam Arora is the Gabriel Hauge Assistant Professor of Management at Manhattan College where she teaches both leadership, negotiations and strategic management to undergraduates and MBAs. She is an Adjunct Research Scientist at the Earth Institute at Columbia University.
Her research examines the role of social context and connections on economic decisions, through both experiments conducted in the lab and fieldwork. Specifically, she studies the influence exerted by social factors on individual and organizational tradeoffs in social and environmental dilemmas. Humans decision making is thoughtfully irrational – we, as is shown by her research, sacrifice to cover up for a lazy group member on one hand, and absolutely take full advantage of a weaker competitor on the other. When placed in a situation of threat though, we can come together to achieve tangible collective goals, including sacrificing monetary gain to benefit the environment.
A secondary goal of her research is to model real world decisions within their social contexts to create interventions and best practice models that can enhance decision maker effectiveness.
She received her Ph.D. in Psychology from Columbia University and was a Post-Doctoral Scholar at the Center for Research on Environmental Decisions (CRED), Columbia University. She has a MBA from the Kellogg School of Management, Northwestern University and a BBA summa cum laude from John Cabot University (Rome, Italy). Prior to joining academia, Dr. Arora worked as a consultant with McKinsey and Co., and as an investment banker at Citicorp Securities (Citi).
REPRESENTATIVE PUBLICATIONS:
Arora, P., Peterson, N.D., Krantz, D.H., Hardisty, D.J., Reddy, K.S. (2012). "To Cooperate or Not to Cooperate: Using New Methodologies and Frameworks to Understand How Affiliation Influences Cooperation in the Present and Future", Journal of Economic Psychology, doi: 10.1016/j.joep.2012.02.006
Krantz, D., Peterson, N., Arora, P., Milch, K., Orlove, B. (2008) "Individual Values and Social Goals in Environmental Decision Making," Decision Modeling and Behavior in Uncertain and Complex Environments, Eds. Kugler, T. Smith, J.C., Connolly, T., Son, Y. J., Springer Press
Arora, P., Logg, J., Larrick, R., (Under Review) "I'll Let You Walk All Over Me If It Makes Me Look Good: Role of Identity in Overcompensation and Disengagement in Environmental Social Dilemmas"