Contact Us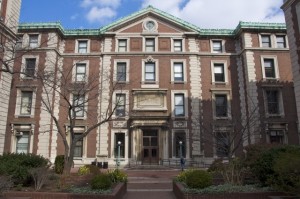 Center for Research on Environmental Decisions
Columbia University
419 Schermerhorn Hall (Physical Location)
Phone: +1-212-854-8780
Fax: +1-212-854-3609
Email: info@cred.columbia.edu
Mailing Address:
CRED
Columbia University
419 Schermerhorn Hall
1190 Amsterdam Ave
New York, NY 10027
Directions for getting to the CRED office at 419 Schermerhorn Hall:
Take the #1 local train.
Get off at 116th Street and Broadway (Columbia University).
Enter campus through the iron gates at Broadway and 116th (link to campus map).
Walk the tree-lined path until you see stairs on your left.
Take the stairs up toward the Greek temple-like building called Low Library.
Walk around the right side of that building.
Pass the Chapel and Avery Hall.
Turn right toward Schermerhorn Hall.
Enter Schermerhorn Hall (the entry level floor is already the 4th floor).
Turn right.
Go through the double wooden doors.
The CRED office is the first door on the left.
If you have trouble finding us, call us at +1-212-854-8780.