Diana Reckien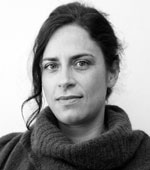 Assistant Professor for Climate Change, Department of Urban and Regional Planning and Geo-Information Management, Faculty of Geo-Information Science and Earth Observation (ITC), University of Twente
dianareckien@gmail.com or d.reckien@utwente.nl
Download Curriculum Vitae
Dr. Diana Reckien is an Assistant Professor for Climate Change, Department of Urban and Regional Planning and Geo-Information Management, Faculty of Geo-Information Science and Earth Observation (ITC) at the University of Twente in the Netherlands. Her work there focuses on social issues related to climate change, including the impact on cities.
Diana holds a Ph.D. in Geography from the University in Marburg in Germany and specializes on the interface of climate change and urbanity. She has contributed to several European research projects (DYNAS-COAST, URBS PANDENS and ADAM) and led parts of the research network SUSTAINABLE HYDERABAD on sustainable urban development in India. Her work focuses on climate change impacts in a number of sectors, such as transport, buildings and health, and also investigates the interface of climate change and migration. She also looks at adaptation strategies, addressing policy, planning and individuals. Former projects have included work on climate change mitigation as well, mainly with respect to urban transport and suburbanization.
Diana formerly worked at the Potsdam Institute for Climate Impact Research (PIK) in Germany and lectured at the University of Potsdam as well as at TERI University in Delhi. She has published widely in international peer-reviewed journals and books and is guest editor of a special issue in Gaming & Simulation on "Climate Change and Gaming & Simulation". She has performed work as a consultant for German as well as international organizations, most recently for the Asian Development Bank. Diana was a Visiting Scholar at CRED from 2012-2014 and also worked for Climate Analytics Berlin.